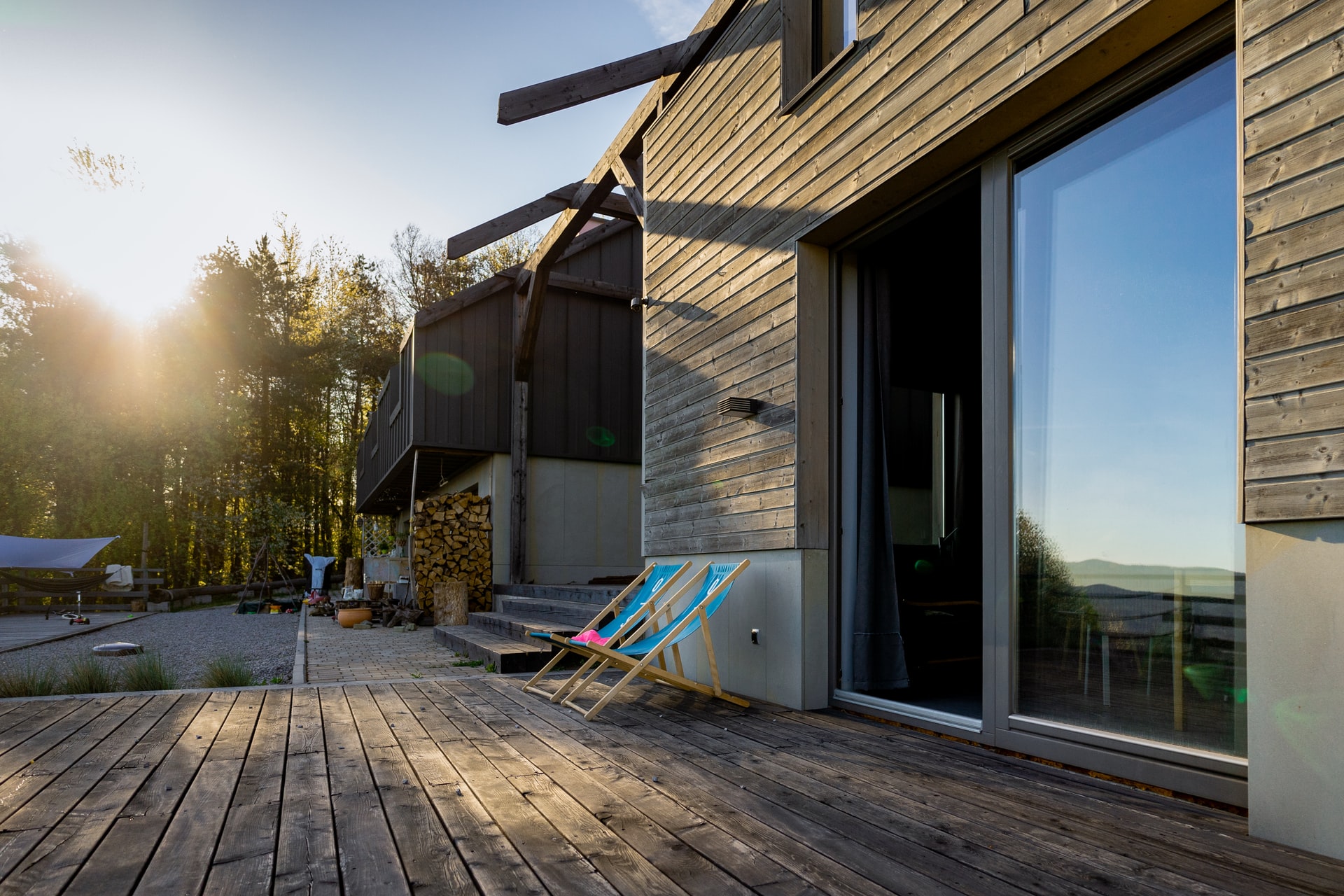 Preparing Exterior Timber For Paint
The primary goal for all wood maintenance practices is to ensure the wood surface is strong, dry, and clean, without dirt, dust, or grease. It is also best to fill in cracks, holes, or open joints using a suitable external wood filler to achieve an even, smooth and admirable finish.

Preparing Bare Wood For Wood Paint
1. Begin by sanding the surface to create "keys" that guarantee the paint sticks on whatever you apply it to like garden furniture
2. Brush off the dust from your external wood surface, such as garden furniture to get rid of as much sawdust as possible.
3. Where the bare wood suffers from fungus infection or mildew, use an anti-fungal external wood treatments to cure the surface. Additionally, apply a non-wax or oil-based preservative on the surface before priming it.
4. Look for areas where the external wood may be rotten and cut out the rotten part. That is not all, remove another 25mm of the healthy wood around the rotten area to avert reoccurrence of the rot. Also, you will have to replace the rotten wood with new wood.
5. For knotty timber, use a good resin blocker and wood knot to cover the knots. Knots on the external wood are the leading reason for the stains that can be seen through the paint. Alternatively, you could use an undercoat or ordinary basecoat to deal with the knots. Please note: not all wood paints need an undercoat. You will need to confirm if you need to apply the undercoat before you use such a product or paint.
6. At this point, the wood surface is ready for application of the best wood paint. More importantly, allow the wood enough time for the undercoat or basecoat to dry thoroughly. Also, note: you may have to apply two topcoats depending on how the wood surface takes the first one. For added guidance, please get in contact.
Painting A Surface That's Already Been Painted
1. The initial step is to sand the wood and remove loose wood paint that has which has peeled off, flaked, or scalded. The goal is to expose a smooth, uniform surface with keys to paint stick on the surface, such as garden furniture.
2. Use a mould remover to deal with any fungus that may cause the wood to rot, or if the wood is in a moist area and will need added protection. Things like external wood walls or garden furniture/outdoor wooden furniture.
3. Use an undercoat, ordinary basecoat, or a special knot and resin blocker to cover any knots on the outdoor wood paint surface.
4. Allow the undercoat to dry fully before applying the topcoat.
How to Apply A Translucent Finish
Paint is not the only available option when you want your external wood to look attractive and phenomenal. For instance, you may| consider an opaque finish that forms a coating over the wood and completely covers the wood's natural colour.
What if you want a translucent finish to preserve the attractive appearance of the wood's natural grain and allow the wood's tone to shine through? In that case, consider wood oils, wood stains, or wood preservers. Unlike wood paints, wood oils, wood stains, and wood preservers do not crack, flake, or peel off. Also, they may be a better option than paint because they nourish the wood, making it stronger and durable and sturdy.
Preparing Wood For An Oil-based Wood Stain
1. Begin by sanding the timber to expose the bare wood and brush off the dust.
2. When applying the stain, use a good brush with good and strong bristles.
3. Apply the stain in small sections with utmost care. Covering too much surface with the brush may cause you to apply a too thick or thin coating.
4. When applying the stain, move the brush in the same direction as the wood grain.
More importantly, read and follow the manufacturer's instructions on the number of coats to apply, among other guidelines. Some types of wood require at least two coats while others may need more. Allow each coat to fully dry before applying the next coat.
5. To achieve an extra-smooth and durable finish, gently sanding the surface using 240-grade sandpaper before applying the final coat.
Preparing Wood For A Wood Preservative
1. By sanding or using a suitable stripping or removing product, remove surface coats of paint, varnish, or another surface coating.
2. Ensure the wood surface is dirt-free, clean, and dry.
3. Use a brush or a paint roller to apply the wood preservative. If you need to apply the wood preservative on a rather extensive surface, you may have to buy a spray system to save time.
4. Allow each coat to dry fully before applying another coat. Also, follow the manufacturer's instructions on the number of coats you need to apply.
Preparing Wood For Wood Oil
One of the best qualities of wood oils is that they create a durable water-repellent finish and enhance the natural colour of your wood. Wood oils also nourish, seal, feed, and protect the wood, making it stronger. Some oils, such as decking oils, give a hard-wearing coat while others are ideal for protecting the wood from harmful UV rays.
To some extent, most oils can carry out both functions. Colourless or transparent wood oils may offer some UV resistance but it is nowhere near what is provided by coloured wood oils or oil-based wood stains. As a rule of thumb, the darker the colour of wood oil, the higher the UV resistance the oil product provides.
1. Suppose you are dealing with new wood? You need to sand, and dust it to create a smooth surface before applying the product or paint.
2. Most types of wood oils can be used on a previously oiled surface, but it is always best to try it on a test area before applying it on the whole area.
3. If you are using wood treatments that is already vanished, is previously painted wood, or stained, you have to get rid of the original finish by sanding the surface or using a good stripper before applying the new surface coating.
4. Also, sand the surface of any wood that has become grey from the impact of weather-wear and UV rays. It is always best to expose the natural colour of the wood before proceeding.
5. Do not apply any wood oil to a moist surface or a surface directly exposed to the sun.
6. Keenly stick to the manufacturer's instructions when applying the wood oil. Most wood oil products' application instructions have little differences.
How To Colour Wood Paint
Not many people have considered using colour wood oils and varnishes for their front door. Natural wood is normally a lovely surface. But still, doors and window frames are often painted as part of building traditions and aesthetic improvement.
On the other hand, good quality but old or new solid oak doors and old, distressed vintage doors can still be attractive regardless of whether they are previously painted wood, sealed, or preserved. Follow the instructions below to see how to varnish or oil external wood doors and window frames. These instructions can be used when you want to attain an attractive, natural wood look for your wooden fence or shed.
1. You will have to strip off all flaking paint and use a good basecoat, two undercoats, and about two or more coats of gloss wood paint.
2. Alternatively, if the outdoors paint for wood is a bit hard to come off, rub it off using moist and fully dry sandpaper to get a smooth surface. Apply two layers of an undercoat and one or two coats of gloss wood paint. If you do not like the glittery quality in gloss, you may instead use a silk or matt finish for the best paint look.
Health And Safety When Using Wood Paint
Certain external wood products and paint are liquefying agents and have several safety tips one must consider when using these products or paint. Always read the label to learn more about the application procedure for various products and what you need to do when using them.
The following are some of the everyday health and safety tips you need to take into account regardless of the product you are using:
1. Read the product's safety tips, usually on the paint tin or container.
2. Ensure you are in a well-ventilated space when you are using these solvent-based paint.
3. Because solvent-soaked clothing can easily catch fire, ensure you wash or discard the rags, cloths, or brushes you used to apply outdoor paint for wood.
4. Put on protective clothing whenever the manufacturer of the products recommends so.
5. If the product gets on your skin or in your eyes, ensure you wash it off immediately to avert eye and skin irritation and related problems.
6. Always keep all outdoor wood paints away from food, areas where food is prepared and stored, or kids and pets areas. Additionally, keep outdoor paints for wood products far from water tanks and ponds. It is because most of these liquid products are harmful to animals, plants, insects, human and aquatic life. When dry, most wood products are not harmful to| people, animals, and plants.
7. It is always best to keep the wood products, like wood paint, in the same container you bought them in. Also, keep it firmly closed when you are not using the product.
8. Avoid breathing near the fumes of the wood products you are using.
9. Most wood maintenance products or paint are highly flammable to avoid lighting naked flames when near the products, especially open containers. Do not light or smoke a cigarette near such products, particularly before the product is fully dry.
10. Find appropriate ways to dispose of any of the products wastes as per local council ordinances. Check your local council's website to confirm the appropriate steps to take.
11. If a person accidentally swallows any wood maintenance products or paint, immediately rush them to a doctor and carry the product's label with you along with you for easy correspondence between you and the medical team.
12. Avoid spilling liquid wood products into plastic containers, concrete, or brick surfaces to avoid staining or damaging the surfaces.
Painting Already Painted Wood
Painting your home's exterior wood paint outdoor is probably the most inexpensive ways to improve its appearance whilst increasing its value and condition. Exterior repainting also includes additional advantages like moisture sealing to minimize mould growth and more.
In terms of painting, more often than not, DIY painting involves re-painting over old paint. Therefore, this article is going to take you through the procedure of painting over old paint.
Painting Previously Painted Wood
Have you been about to repaint your home's exterior? Several tips on how to paint over old painted clapboard wood siding will offer long-term quality and protection.
Special attention needs to be paid when painting over fading, flaking external paint. For instance, learning how many coats of paint to make use of external wood will help you to seal and protect it for an extended period.
Maybe you are refinishing the wood trim externally of your home. Granted, when painting most exteriors, the very first item you'll use is external wood trim.
Well, if you've chosen to repaint your own home, you'll be happy to find out that you're one of many in taking on this. Trends show that homeowners will probably be painting over old paint soon, particularly those who would like it to last permanently.
When repainting, you should do it right. When performed correctly, it can possess a positive influence on the longevity of even the best paint. In this particular sense, having some insider information or approaches from your qualified painter assures success.
This post is therefore written both for painters and homeowners that want to discover the best painting techniques. Buying the ideal preparations for outside wood will add numerous years of paint quality and protection. Accept it from your pro in the business, who can advise you first hand how even the best paint behaves when used on wood trim and siding.
Getting Ready To Paint Over Previously Painted Wood – Tips To Keep In Mind
When painting over aging paint on wood, there are many key procedures to go by when preparing before getting a paintbrush or roller. Here they are:
• Clean dirt and debris from old paint using high-pressure washing.
• Look for a small amount of moisture content (MC).
• Before you apply any paint, all flaking paint needs to be removed.
• Examine the health of the windows, doors, trim, siding, soffits, furniture and fascias.
• Before painting over old paint, cut and dig away rotten timber.
• In the event that there are actually any fill gouges, use wood fillers to fill them.
• Sand any wood fillers before priming older wood treatments.
• Work with a high-bonding primer on all bare wood surfaces.
• For wood to endure, two complete coats of paint will be required.
When painting over old paint on wood, the wood substrate needs to be robust, sound, and sturdy for your painting outdoor wood to last. The last coating also needs to be adequately bonding and adhering. Moreover, wood ought to have a moisture content of below 13% MC.
Be aware that other materials like metal, fiberglass manufactured sidings, and stuff like that all require similar preparations. Nonetheless, wood paint reacts favourably or negatively depending upon the paint type chosen and the particular surface it covers so different materials will give different effects.
Painting Old Paint On Aged Wood – The Process
Step One: Pressure washing & Moisture Content
The moisture content of external wood is among the most important things to consider when painting aged wood. Look at the moisture content (MC), if it's excessive, the paint will dry up and lift within just weeks. Consequently, if you're unsure in regards to the MC, moisture meters are plentiful and reasonably inexpensive at local hardware stores.
When exterior siding is pressure washed off and is incorporated in the technique of drying, you'll see that some wood sections are drier than the others since the inclusion of older paint keeps the wood moist for a longer time. Moreover, areas open to sunshine will dry significantly faster compared to those from the shade.
In relation to scrapping, only rinse siding surfaces. Do not attempt to scrape paint with high-pressure water. After pressure washing, later, hand scrape places to get rid of them. Remember to employ a hand scraper to go over any loose edges.
From the drying process, let the wood completely dry. This could be the initial type of defense, so don't rush into painting. Before step two, be sure the siding has dried out sufficiently using a moisture meter and inspecting numerous places.
Step Two: The Fun Part – Paint Scraping
If you find any old paint that may be now lifting, it needs to be removed. Before you apply new paint, any peeling paint needs to be scraped off. Simply because if any scraps stay, the newest paint coat will not likely attach and may lift.
Scraping out any rotten or damaged timber and obtaining a firm substrate must be your top goal. This needs to be completed before proceeding with the effective use of any paint products. During scraping off defective old paint and rotten timber, don't be worried about gouging the wood.
Once the area dries out, your restoration techniques are able to shine. Just use external wood spackle to fill the gouged areas then permit the area to dry as evenly as you can. External fillers dry rapidly, enabling gentle sanding to obtain an even finish.
Here are several pointers when scraping:
• Work with a sharp pocket knife to check for compromised structure by inserting it in the wood's surface.
• In the event the knife-edge sinks readily in the wood, you'll have to dig it all out first.
• Additional Places to search: The bottoms of wood doors and windows or the bottom of furniture, and also locations where wood is exposed to a lot of water, are standard places to detect wood decay. Other places to examine are definitely the fascia and soffits.
• It is crucial to obtain good drainage in every area near water, like gutters and also the roof edge to make certain that water is not going to drip on painted surfaces or wood siding walls. Some other moisture which could enter into exposure to your clapboard siding, like rain, necessitates using a suitable paint sheen. Moisture will bead up and roll off like water on a duck's back when the paint sheen is correct.
Step Three: Wood Paint Fillers
Having an external wood filler or Spackle to fill any gaps or holes you've dug out can certainly make everything look new again. Once the fillers have dried, sanding them smooth enables the primer to get applied.
"I plan to employ a paint and primer blended in a paint," you may say. "These external paints are generally most effective, with a few of them holding lifetime warranties." Well, facing problematic and patched areas on the outside, a very high-bonding primer created for external use is usually recommended. Then, for optimal paint protection, using the best external paints is more of a guarantee.
I realize I'm veering off-topic here, discussing repainting over old paint, scraping, and digging up rotted sections, but any substandard surfaces has to be treated before any new paint is put down. That may be all there may be to it. Previous paint that may be peeling up needs to be scraped away completely, fillers added, and primer applied before final coats are painted.
Step 4: Sanding Fillers
It's vital to sand wood fillers once they've dried completely. Regardless of whether fillers seem to be smooth, they are certainly not. Lightly sanding not merely smoothens the top but in addition enables you to fill pores. Patches will vanish after priming and painting over wood fillers and Spackle.
The best method for sanding is employing the typical hand-block sander sponge. If you're focusing on a wider area, you may want to work with an orbital sander.
Step 5: Exterior Primers
I can't emphasize the desire to apply external primers enough. External paints are supposed to bond to paint as opposed to bare wood. Sure, you could use the best external paint to colour bare wood, but if you would like it to last, prime it first.
Any areas you've just filled must be primed using a high-bonding external primer. The same thing goes for almost any place where you scraped the paint away and off to reveal the naked wood. Substantial external primer coats over old paint are suggested for troublesome areas, for example where oils are leaking throughout the siding.
Just How Many Coats Of Paint Are Needed For External Wood?
A fantastic and popular question for you is just how many coats of paint you need for wooden surfaces. Paints have improved massively in the last decade as a result of today's breakthrough technology. The truth is, some paints just require one thick, even coat nowadays.
Such paints are typically of your maximum quality nonetheless they cost considerably more. Then again, they utilize a lot less material. Most exterior lifetime paints tend to be more fade-resistant since they only need one application.
Before painting, however, make sure you prime naked external wood siding first to deliver your exterior an arsenal of weatherproofing bonding sealant. This combination ensures adequate adhesion, weatherproofing, and sealing. This prevents water from permeating wood trim or siding and causing peeling, cracking, or blistering.
The necessity of fade resistance emanates from the point that fade is the first thing that appears as paint ages. When your wood paint is regarded as resistant against paint fade, it is going to keep its original structure and chemical makeup for much longer, preventing cracking, peeling, and chipping. External paints that aren't of the finest quality usually require two entire coats of paint, applied wet on dry. Allowing the initial coat to dry before you apply another coat is critical.
Whether using external lifetime paint or otherwise, the general guideline is all painted wooden sections ought to have at least 10-13 mils of dried paint.