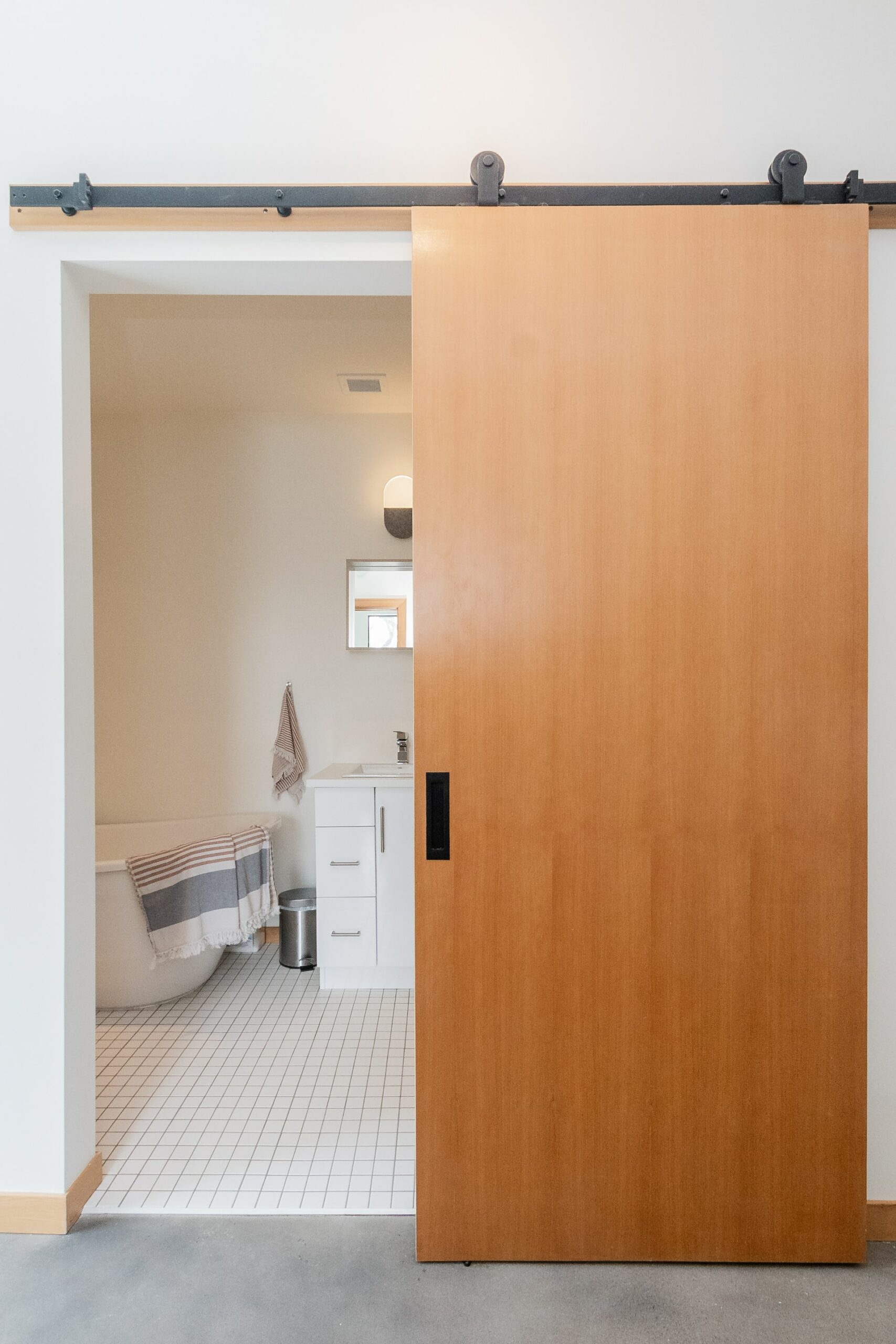 Paint for Doors
Finding a paint that will work for your doors is no easy job, you have to pair something with the look of your interior or exterior all while keeping your wood safe. We like to think we can help you with that, so why not shop our range of paint.

Painting your doors is an easy and cheap way to massively improve the look of a home or building. Painting doors can let you add a splash of something different to a space without making a massive investment.

Below, we have made a list of things you need to know when looking for paint for doors so you can go in with a full knowledge of what you are facing.
What Should I Use on my Newly Stripped Doors?
This is a question with a number of answers depending on a number of variables. Our wood stains are a great way to give your interior doors a new look and get the look you want. When using a wood stain, you must finish it with a topcoat to seal the stain into the door and protect the wood. We have a wide range of stain colours and topcoats that will let you create the look that is perfect for your building.
My Doors Have Been Waxed Previously, Can I Paint Over Them?
We do not recommend you paint over doors that have been previously painted or coated. The oil or wax that is on the door means that the new coating will not be able too bond correctly. The coating will just flake off or in some cases simply run down the door. You can sand the door back to get fresh wood, or get a professional to do it so you can guarantee of quality job.
Should I Paint my Doors Before I Hang Them?
We would say yes you should paint your doors before you hang them. However, you have to ensure you allow for a correct drying time per the manufacturer. Depending on what you use to paint the doors drying times will vary. For a coating to be fully dried and hardened and giving you maximum protection could take from 5-7 days.
How Much Paint do I Need?

How
Each product will provide a different level of coverage. We can give you a general guidance on how much our coatings will cover for you but this will vary a little bit depending on your application. For a door, we would say that each door is 3.5m square.
How do I Paint Bathroom Doors?

How
This question has a few different possibilities and scenarios. Lets assume that the door is untouched and solid wood first.
How To Repaint Your Door
A simple thing you can do to improve your home is repaint your door. This can help change the look and feel of an exterior or entire house with a few simple steps. Read on to see how you can easily repaint your door with our handy guide.
Pick Your Door Paint
First step is to be sure what the paint you are buying is exterior paint. This is needed as your door will face sun, wind, rain and frost, mould, expansion and shrinkage. The most common exterior paints you will see are either latex or acrylic-resin based with a semi-gloss finish.
Latex based paints are very flexible and popular. They are easier to use thanks to their filling abilities and resistance to cracks and chips. Semi-gloss paint is wanted thanks to the fact it is easy to clean and offers a nice contrast to other exterior features.
Some paints are more of an "all-in-one" solution. This means they do not need a basecoat. Another option are oil based paints. These are very high gloss and richly coloured. It is also very resistant to chips and cracks.
Remove The Door
To get the best possible results, you will need to remove the door and all of the hardware like hinges, door handle, etc. All you want is the wood of the door there for you to paint. Make sure you have an area that you can put the door down flat on to paint, as well as a temporary door. Exterior paint takes a long time to dry and so you will need to have something to put in place while you wait. A sheet of plywood is perfect.
If your door is particularly old, it will need to be sanded and primed. Start by scraping off any of the loose paint you can see. Then, sand back the paint on the door until it is smooth all over with no ridges or bumps. Starting with a medium-grit sandpaper like 120-grit and work your way up to something finer like 220-grit. Depending on how it feels at this stage, you may need to go finer again with a 320-grit sandpaper. A dust mask and goggles are needed when doing this.
If your door has cracks, fill them with putty or caulk and a putty knife being sure you really get it into the crack. Leave it to dry and then sand smooth. Once this is done, give your surface a vacuum and wipe to get rid of any excess dust.
Apply Basecoat
To apply your basecoat, it is best to apply it with a wide brush and a single coat at a time and cover the front and sides of the door. This will stop the door from absorbing moisture and give you a much smoother finish. Once you have given it enough time to dry just turn it over and paint the back. If the basecoat gives you any lumps or bumps just let them dry and sand it back.
Repaint Your Door
Once your basecoat is dry, get your paint out. Start by giving it a good stir. Begin painting at the top and work your way down with a wide brush in the corners and a small roller on any of the flat panels. Long strokes are vital with the brush in order to give yourself an even finish. The same as the basecoat, just let one side dry and then apply the paint to the other side. You will want to apply at least two coats of paint, adding more if you want to increase colour saturation.
Dry and Rehang
Before rehanging the door, just wait and let it dry fully. Once the paint no longer feels tacky, you can reattach all the hinges, handles, etc. Then your door is good to go, door is done.
If you are looking to get the perfect paint for your door, then just in contact with us today.
What To Choose For My Timber Doors?
Finding the perfect colour to paint your timber doors means you have a number of factors to consider. Read on to see what we think you have to think about when picking your colour.
Is there a perfect front door colour?
No matter what colour you pick to paint your door, the finish will be a massive consideration. It will have to give you protection against the environment and nature as well as being tough enough to put up with day-to-day wear and tear. The finish will have to be tough on scratching and scraping. This will keep your door looking fresher for longer. Keeping it looking them looking their best is a vital part of stopping your house becoming old and decrepit.
A few of the more popular colour choices we have seen of late are greys, dark greens, blues and reds.